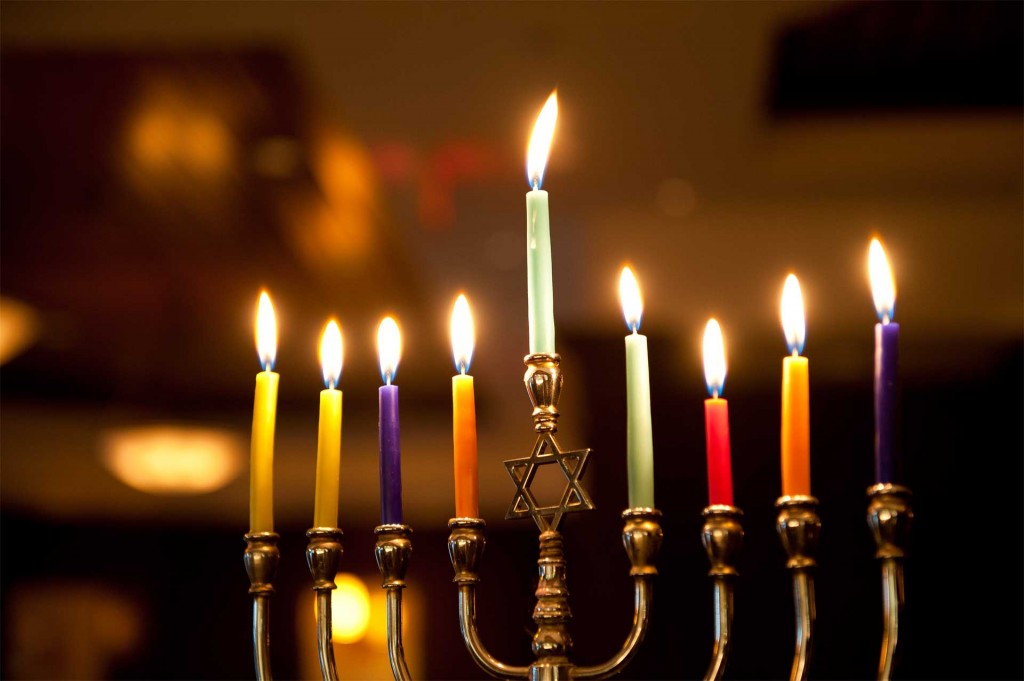 Monthly eNews – December 5, 2012  
Mark Your Calendars:
This month: 12/5 — FVJN-to-Lazarus House Dinner 12/8 — Light your Chanukah candles: It's the first night! 12/9 — FVJN Chanukah Party! 12/9 — FVJN Board Meeting 12/14 — Shabbat Evening 6:30 @ FVJN 12/16 — FVJSchool 12/16 — Adult Ed. Movie Club   Coming in January: 1/4 — Shabbat Evening 1/6 — FVJSchool 1/12 — Adult Social Dinner 1/13 — Adult Ed. Movie Club 1/20 FVJN Board Meeting 1/27 — FVJSchool   Find a hidden Hebrew word below, and win a prize! Respond to: rachely@fvjn.org.  
President's Corner
Happy Winter and Hanukkah to all!   While it may seem hard to believe with 69 degrees outside just two days ago, the winter holidays have nearly arrived for all of us in the Fox Valley.     Please take the time to read this eNews.  Ideally we will all read all of the eNewsletters that Rachel works so hard to put together for us.  That said, at the end of the year I find we sometimes reaffirm our connection with our best selves — especially as Jews who come right off of the High Holy days before the secular New Year.  This eNews is full of opportunities to grow.  Tzedakah and celebration fill its digital pages.     As many from varied religious backgrounds do this time of year, we are presented with countless opportunities to give charity or tzedakah.  We are also approached by every non-profit and political, social, and special-interest group we have ever considered being associated with, to give our financial support.  As with many worthwhile organizations, it is this time of year that FVJN asks its members to consider giving generously.  Please help support the great work that FVJN does, whether you attend many events, only one, or have yet to share time with us.  Your financial support and volunteerism keep this organization going and growing.     In addition to your financial support, we are limited in how much we can take on by the number of volunteers we have to help lead the way!  In 2013, please consider getting involved and leading this group in new endeavors or helping sustain those we already undertake.  As a group, this year alone we have helped: feed the area's homeless and those who have fallen on hard times, educate a new generation of children on the joy and wonder of studying Judaism, donate and volunteer to pack food at the Northern Illinois Food Bank (last time we got to pack candy–every kid's dream come true!), care for rescued horses, and deepen our sense of community through shared book clubs, movie nights and social outings. We thrive or wither based on the many who come together to determine our fate.  Consider getting involved!        If you cannot join us in volunteering, please just join us!  We have our annual Hannukah party this coming Sunday (December 9) and we are co-sponsoring (at our space on 3rd Street) along with the Pushing the Envelope Farm and Temple Beth Israel a Channukah-focused potluck Shabbat Evening the following Friday (December 14).  We have a movie night next Sunday (December 16) and are making food for Lazarus House on January 2 (as we do the first Wednesday of each month).  Please consider joining us for all of these events — we'd love to see you there!   For those looking for the quick summary — This month consider:
*Donating to help support the great work FVJN does throughout the year
*Volunteering to help FVJN feed those at Lazarus House
*Volunteering your time and energy to help the great service project FVJN undertakes (including coordinating Lazarus House meals and helping with the upcoming Chanukah party)
*Attending and sharing fellowship with fellow FVJN friends at the upcoming Hanukkah party (12/9) and the Chanukah-focused Shabbat Evening (12/14) 
*Completing the FVJN Survey so we can better understand and serve your needs!  And maybe WIN a gift card in the process :-).  
A very happy Hannukah and New Year to all! Warmest wishes through a chilly December, Tammie  
FVJN's Annual Chanukah Party!
Dec. 9, 12:30 – 3 p.m.
Persinger Rec Center, Geneva
Please join us for this fun-filled family event!   Grab your menorahs, bundle up the kids and come to the annual FVJN Chanukah Party, for friends, food,  activities for kids, music and more! Everyone is invited! There is no charge, but donations are always welcome (and can always be made at www.fvjn.org)   Party details: FVJN Chanukah Party Sunday, Dec. 9, 12:30 to 3 p.m. Persinger Rec Center, NW corner of Peck and Kaneville roads Questions? Comments? Email rachely@fvjn.org   Volunteers are needed for the following: Cookie Baking Crafts Games Set-up Clea-up Helpers   A dairy/vegetarian potluck meal is part of our annual FVJN Chanukah Party! Please see the list below, and sign up to bring a dish to share. Email Rachel: Rachely@fvjn.org, with what food you'll be bringing. Please be sure to put "FVJN Chanukah Party" as the subject of your email response.   For the potluck: Latkes
Salads (green, tuna salad, tomato salad, etc.)
Bagels (cut into quarters since little kids often eat less than 1/2)
Hummus and veggies
Cheese/crackers
Desserts
FVJN will provide sour cream and applesauce, as well as beverages and paper products (if you would like to provide/donate any of these things, let us know!)
Shabbat Evening & Chanukah Potluck!
with Temple B'Nai Israel (Aurora) and Pushing the Envelope Farm 
Friday, Dec. 14, 6:30 p.m. at FVJN
Join us for a friendly Shabbat evening, with prayers, a potluck supper, and friendship. We'll welcome Chanukah and Shabbat with song and celebration. All ages welcome! Please bring non-meat dishes, only.  RSVP to rachely@fvjn.org with what you will bring, so we can plan accordingly.   If your last name begins with: A – G: Desserts H – N: Beverages (apple and/or white grape juice), and set-up/clean-up            (*Please come 15 minutes early and stay 15 minutes after.) O – T: Main dishes (non-meat) U – Z: Salads or side dishes *Please provide your own serving utensils. Paper products will be provided.   There is no charge for this event,  but reservations are required. Make yours NO LATER THAN DECEMBER 12 at Tammiew@fvjn.org.  
Adult Film & Discussion
Sunday, December 16, 3:30pm-5:30 pm
  At the בית of Nancy Sohn and Mike Simon.   Join us as we view  the film "Israel vs. Israel",  a look at four Jewish Israelis who are working for peace and for the rights of Palestinian Arabs.  Though produced in 2010, the topic is as timely as ever!  Snacks provided, BYOB.  Please email
nccox@comcast.net
for RSVP and directions.  
FVJN Monthly Volunteer Project
FVJN- to-Lazarus House Dinners
Tonight!
We at FVJN are happy to do the mitzvah of providing dinner for the guests at Lazarus House  in St. Charles, on the first Wednesday of each month.  In order for us to continue doing this, we need plenty of volunteers, so no one person needs to do too much. Please sign up to volunteer: rachely@fvjn.org.   Volunteers prepare a main dish, a salad or two sides (including vegetables), and a dessert. These meals currently feed 60 to 75 men, women and children at Lazarus House.   Tonight's meal is being provided by the following volunteers: Dec. 5:  Tammie W, Nancy S.,  Joanne S., and Mim E.   Volunteers are needed for these upcoming dates: January 2  February 6 March 6  April 3   Thank you! Rachel Yackley rachely@fvjn.org  
Tell Us!
Survey Says…
We are seeking input from our FVJN member community to help us ensure that we continue to evolve to best meet your needs and desires for this organization. We are specifically looking for you to answer these questions as to what you personally (and your family, if applicable) want to see from FVJN. Please take the 7 minutes this survey will likely require to let us know what we can do for you! As a token of our thanks for your participation in helping us provide the services you most want, we will have a raffle among all survey responders for a $25 gift certificate. Thank you in advance for your participation and thoughtful answers!
-The FVJN Board PLease click on the link below to participate!
http://www.fvjn.org/fvjn-survey/
FVJN Book Group
Seven happy readers attended the Book Group gathering on Dec. 4. They all enjoyed reading All Other Nights, by Dara Horn,  and highly recommend it to all! The next Book Group meeting will be on
Tuesday, Feb 12, 7 p.m. at FVJN.
Please come for a discussion of The Book of Blood and Shadow, by Robin Wasserman. Bring your favorite book suggestions for a future book group! Newcomers are always welcome.  
———-
FVJS News and Notes:
It's Never too Late to Register for FVJN!
The FVJSchool is set to open for its third school year this fall, with educational, engaging and exciting Jewish experiences for our students!    FVJSchool is held from 9:30 to 11:30 a.m. every other Sunday, during the school year. Hebrew class will be offered from 11:30 to 12:30, on FVJS mornings. This program has classes for children beginning  at age 3 and continuing through 8th grade.    FVJS welcomes children from those with no formal religious education or Jewish  knowledge, to those who have previously attended religious education  programs. The FVJS program provides a general Jewish education and does not  adhere to any one particular branch of Judaism.   Information and registration forms are available at www.fvjn.org. or email Barb Anderson: barb.anderson58@att.net.  
Mazel Tov to One of Our FVJN Members!
Mike Simon Wins 2012 Mayor's Choice Award
Little Traveler co-owner Mike Simon received a surprise award earlier last month. Simon was presented with the first-ever "Mayor's Choice Award" during the Nov. 1 annual holiday kickoff breakfast. According to the city's newsletter, Mayor Kevin Burns recognized Simon's commitment to downtown through stewardship and investment in his downtown properties and his tenants. A year ago, Simon announced the closing of the Fashion Walk shops, "to the collective worry of the community," the city newsletter said. "In the past year he has been systematically cleaning, repairing and rebuilding the buildings—and, placing great tenants in each!" The tenants include Beaute by Sulvie/C'est La Vie, Mossy Twig, and All Chocoate Kitchen. The exteriors of their shops have been restored as has the corner exterior of the former Merra Lee shop, and the newsletter offers one more tantalizing prospect. "Stay tuned for news of a new tenant at the corner!" it says.  
Jewish FAQ
50 Jewish Things to do Before 13
(Excerpt from:
http://forward.com/articles/158131/-jewish-things-to-do-before-/
1. Find out whom you were named after.
2. Plant a tree in Israel.
3.  Volunteer in your community. (Explain to your kids that Jews believe in tikkun olam — repairing the world.)
4. Dress up for Purim.
5. Learn how to blow a shofar.
6. Make cookies, and bring them to a Jewish retirement home; talk to the people at the home.
7. Go to a rally for a good cause. (Explain that Jews believe in standing up for what's right.)
8. Go into the voting booth with a voter. (Explain that Jews are thrilled with democracy.)
9. Dance the hora.
10. Find the afikomen at the Passover Seder.
11. Go to Israel, or get an Israeli pen (or Facebook) pal.
12. Play Gaga! (A soccer-dodge ball mash-up invented in Israel).
13. Eat in a sukkah.
14. Sleep in a sukkah.
15. Hunt for traces of chametz, by candlelight with a spoon and feather. Or even a Dustbuster.
16. Listen to Israeli rap music.
17. Listen to Arabic rap music (to get a feel for the Middle East that has nothing to do with politics).
18. Go to synagogue, and sit between two adults who love you.
19. Learn some Hebrew. (Even "Sheket!" counts.)
20. Learn some Yiddish (even curses!) or Ladino. (My favorite Ladino word growing up: moorsah — used when someone was in a bad mood and was trying to get everyone else into a bad mood, too.)
21. Visit a Jewish museum.
22. Make some money, and give it to charity. (Explain that Jews believe in tzedakah.)
23. Try a matzo ball.
24. Attend Jewish camp. (Or come to the old-fashioned bungalow colony we go to: Rosmarins, in Monroe, N.Y. Yes, that's a plug.)
25. Cook something for the Jewish holidays with the help of a grandparent.
(Read the rest in next month's eNews!)  
———-
Donations Received
Tammie & Mike Weinberger, in Memory of Barbara Baruch Rachel, Mike & Rebecca Yackley, in Memory of Barbara Baruch  
Celebrate and Commemorate with FVJN
Fill out and mail the form below — or — donate online at www.fvjn.org

When choosing to make a contribution in honor or in memory of someone, consider a donation to Fox Valley Jewish Neighbors (FVJN). Your generosity will support our programs, our school, and our future growth, and those you designate will receive a special acknowledgement of your gift on their behalf, in addition to your message being printed in the
FVJN eNews.
— — — — — — — — — — — — — — — — — — — — — — — — — — — — — — — — — — — — — — —  
Enclosed please find
$___________  Your Name  ___________________________________________________________   Your Address & Phone # ___________________________________________________________  
Message for Acknowledgement letter: 
___________________________________________________________   ___________________________________________________________   Circle the Occasion (e.g., "in honor of" or "in memory of")
Please send acknowledgement to:
Please print legibly and include complete address. Thank you!
  Recipient's Name  ___________________________________________________________   Recipient's Address ___________________________________________________________  
Mail completed form and payment to:
FVJN, PO Box 346, Geneva, IL  60134
Zekher Tsadikeem L'vrakha – The memory of good people is a blessing.
Fox Valley Interfaith — Tonight!
Dec. 5, 7 p.m., UUSG Hello Friends of FVI–Hope you had a fun, tasty Thanksgiving AND have our next FVI program on your calendar. Next week, Wednesday December 5, 7:00 p.m. we will meet at Geneva Unitarian US at the corner of 2nd St. & James. Khadija Walker of the Aurora Baha'i Community will share with us. Since we've never learned much about the Baha'i faith at a FVI meeting, I am really looking forward to this. Many of you have driven north in Chicago on Lake Shore Dr. & have seen the gorgeous white temple in Wilmette–that is a Baha'i temple & I'm sure Khadija can tell us more about it. We will also watch a short video, "Education under Fire," about denial of higher education in Iran. Amnesty International & many other human rights organizations have declared support for this video and cause. Please come meet, greet & learn together. If you CAN come, kindly drop me a quick e-mail so we can plan for seating, etc. Janet Bell: janetb316@gmail.com  
Calling all Friends of Becca's LEGacy!!
It's toy drive time again!!  Now is your chance to be a part of our 5th annual toy drive.  We can fulfill Becca's dreams while bringing smiles to the faces of children with cancer.  Each year, we have grown.  Last year, we collected over 2000 toys.  Let's make this our biggest toy drive yet!   We need your help:   1.  SPREAD THE WORD!  Please tell friends, coworkers, family, colleagues, and everyone about Becca's dreams and our toy drive.  Feel free to forward this email, refer people to
www.beccaslegacy.org
(to be updated shortly with drop off locations) and to the Becca's LEGacy Facebook page.   2.  COLLECT TOYS FOR US!  If you have or know of a business, school, religious organization, scout troop, community group, etc. that would like to be a drop off location, please let me know ASAP.  I'll get you set up with a box and whatever you need.  The more locations we have, the more toys we collect, and the more kids we can help.   3.  DONATE NEW TOYS!  Locations to be listed soon on our Faebook page and
www.beccaslegacy.org
.  There are some new restrictions, per hospital request: no plush animals, toys with magnets, toy weapons, food, or holiday/religious toys/items.  SPECIAL REQUEST: We are hoping to collect some of the new Bratz and Moxie True Hope Dolls.  These are bald dolls to raise childhood cancer awareness. They are available at Toys R Us.  Becca loved her dolls that were "like her." American Girl is also making a bald doll, available by phone order.   4.  VOLUNTEER TO HELP DELIVER TOYS IN JANUARY!  For germ control and privacy, we can't give the toys directly to the kids.  But, we give the boxes to the very special child life specialists who make sure that each child receives the toys that will be most meaningful to them.   Thanks for being a part of Becca's LEGacy!! With appreciation, Francine Becca's LEGacy
www.beccaslegacy.org
Because children deserve a childhood  
Comedian Robert Klein Coming to Elgin!
In celebration of Congregation Kneseth Israel's 120th anniversary, CKI and the Elgin Community Arts Center announce this special comedy performance in Elgin!   Saturday, February 9, 2013, at 7:30 p.m. ECC Blizzard Theatre Tickets: $39/$35 Pre-show Dinner: $35   Deadline for reserved seats and dinner reservations Don't miss this master of stand-up comedy!    
https://www.fvjn.org/wp-content/uploads/2012/12/hanukkah-bg.jpg
1278
1920
Rachel
http://www.fvjn.org/wp-content/uploads/2019/03/jewish-community-geneva-fox-valley.png
Rachel
2012-12-05 21:03:25
2015-10-19 19:10:54
December eNews!