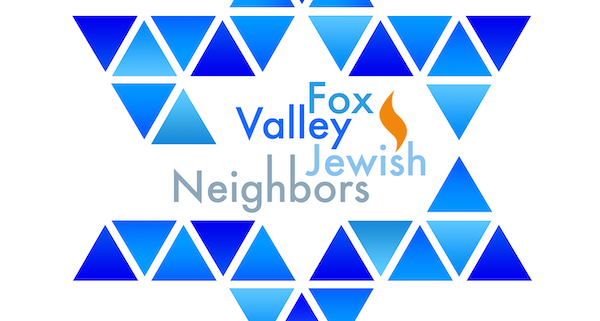 FVJN Book Group!
February 18th (3rd Tuesday). The History of Love, by Nicole Krauss
Book Group meets every other month, usually the second Tuesday, 7 pm at FVJN.
Every interested reader is welcome!
✡️✡️✡️✡️✡️
We still need your support!
https://www.fvjn.org/donate/
Dear Friends, Family and Supporters of Fox Valley Jewish Neighbors,
If you haven't yet sent in your annual donation to support FVJN, please do so now! We only hold one major fundraising campaign a year, and we do not charge membership dues throughout the year, so we very much need everyone to support FVJN at this time. We appreciate all your support, and look forward to continue to provide services, events and more to our local Jewish community!
Donations can be mailed to: FVJN, P.O. Box 346, Geneva, IL  60134, or submitted on-line at: https://www.fvjn.org/donate/.
Thank you for your support!
*FVJN is a 501c3 organization
✡️✡️✡️✡️✡️
Have You Taken Our Survey?
Would you like more religious services/gatherings, more Jewish education, more Jewish entertainment? Your opinion matters! Please take a moment to click on the link below and respond to our brief survey (only 10 questions!). Your input is needed and greatly appreciated as we continue to develop better ways to meet the needs of our Jewish community.
Click HERE for the survey. After completing, please email rachely@fvjn.org with "I did the survey" in the subject line.
Thank you!
✡️✡️✡️✡️✡️
Lazarus House Mitzvah Dinner from FVJN
First Wednesday of each month.
Needed for February 5: Full! Thank you!
Needed for March 4: 1 Side dish
Big thank you to Tammie, Nancy S., Felice & Mim for providing this month's dinner!
More volunteers needed!
This is a great individual, family or group activity!
Visit www.fvjn.org/lazarus-house/ to sign up today and help your local neighbors!
Questions? Contact FVJN coordinator Lisa Foydel: lisafoydel@gmail.com.
✡️✡️✡️✡️✡️
Jewish Sunday School in the Heart of Geneva!
Fox Valley Jewish School
•Registration is still open for the 2019 – 2020 FVJS Sunday school year!
Get all the details HERE !
✡️✡️✡️✡️✡️
CALENDAR
February
2/5 – Lazarus House Mitzvah Dinner
2/9 – FVJS
2/18 — Book Group!
2/23 – FVJS
2/27 – Board Meeting
2/28 – Friday Flick @ UUSG! (See calendar for details)
March
*Save the Date! 3/24 – Community-Wide FVJN Meeting
Click HERE for more details and complete calendar!
✡️✡️✡️✡️✡️
Notes for You!
• Lost & Found: A brown Pyrex bread baking dish was left at the UUSG during the High Holidays. If this is yours, please contact rachely@fvjn.org.
• Donations: We rely on your donations! Please consider FVJN when making donations in honor of or as a memorial to someone in your life. The FVJN Giving Tree is a great way to honor others and assist FVJN in our fundraising efforts: https://www.fvjn.org/giving-tree/.
• If you have an interest in being part of a Caring Committee, a Social Action Committee, an Adult Education & Social Committee or FVJS Committee, please contact Rachel: rachely@fvjn.org!
✡️✡️✡️✡️✡️
Prairie Jewish Youth Group!
PJY events are for Jewish youth in grades 5th through 12th!
Coming up in February: PJY Goes to Dave & Busters! Date TBD.
All are welcome! For information and to RSVP, click on the link below.
http://prairiejewishyouth.weebly.com/upcoming-programs.html
https://www.fvjn.org/wp-content/uploads/2019/01/Icon-for-wordpress-e1568207474543.png
200
207
FVJN
http://www.fvjn.org/wp-content/uploads/2019/03/jewish-community-geneva-fox-valley.png
FVJN
2020-02-12 10:30:39
2020-02-12 10:30:54
ENews February 2020