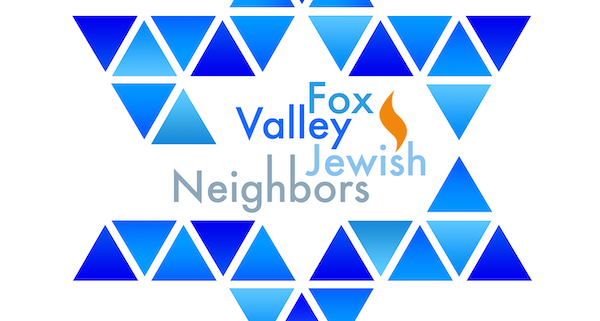 If you haven't yet done so, Please Send In Your Annual Donation, Today! https://www.fvjn.org/donate/
Dear Friends, Family and Supporters of Fox Valley Jewish Neighbors,
It's our one and only annual End-of-Year Fundraiser! Please consider donating today to help us continue to build a more cohesive and inclusive Jewish community in the Fox Valley!
We come to you this one time each year with our annual fundraising request.  FVJN does not charge membership dues and most of our events are free to the public. Instead, we rely primarily on donations that allow us to offer many activities to Jewish individuals and Jewish/interfaith families in our community. Donating is easy by sending in your tax-deductible donations right away either online or by mail. With your support, we can maintain and build upon the positive Jewish presence we have forged in our community!
If you haven't yet responded to our annual fundraising campaign, please consider doing so! Donations can be mailed to: FVJN, P.O. Box 346, Geneva, IL  60134, or submitted on-line at: fvjn.org/donate.
Thank you for your support!
*FVJN is a 501c3 organization
? ? ? ? ? ?
FVJN Book Group!
Meets every other month, usually the second Tuesday, 7 pm at FVJN.
Every interested reader is welcome!
Below is the list of books and dates for 2020:
February 18th (3rd Tuesday). The History of Love, by Nicole Krauss
April 21st (3rd Tuesday). Life In a Jar: The Irena Sendler Project, by Jack Mayer
June 9th. The Yiddish Policemen's Union, by Michael Chabon
August 11th. We Were the Lucky Ones, by Georgia Hunter
October 13th. Sons and Soldiers, by Bruce Henderson
December 8th. The Three Escapes of Hannah Arendt, By Ken Krimstein
? ? ? ? ? ?
Have You Taken Our Survey?
Would you like more religious services/gatherings, more Jewish education, more Jewish entertainment? Your opinion matters! Please take a moment to click on the link below and respond to our brief survey (only 10 questions!). Your input is needed and greatly appreciated as we continue to develop better ways to meet the needs of our Jewish community.
Everyone who responds by January 15, 2020 will be entered into a raffle to win a gift card to Deanne's Market & Deli in Geneva!
Click HERE (https://www.surveymonkey.com/r/YNTXKT7) for the survey. After completing, please email rachely@fvjn.org with "I did the survey" in the subject line.
Thank you!
? ? ? ? ? ?
We Need YOU to Help With This Mitzvah!!
Lazarus House Mitzvah Dinner
First Wednesday of each month.
Needed for February 5: 1 side dish, dessert
Needed for March 4: 1 side dish, dessert
More volunteers needed!
This is a great individual, family or group activity!
Visit www.fvjn.org/lazarus-house/ to sign up today and help your local neighbors!
Questions? Contact FVJN coordinator Lisa Foydel: lisafoydel@gmail.com.
? ? ? ? ? ?
Jewish Sunday School in the Heart of Geneva!
Fox Valley Jewish School
•Registration is still open for the 2019 – 2020 FVJS Sunday school year!
Get all the details HERE (https://www.fvjn.org/fox-valley-jewish-school/) 
? ? ? ? ? ?
Coming Up!
January
1/19 – FVJS *Date Change!
1/23 – Board Meeting
1/26 – FVJS
February
2/5 – Lazarus House Mitzvah Dinner
2/9 – FVJS
2/18 — Book Group!
2/23 – FVJS
2/27 – Board Meeting
Click HERE (http://www.fvjn.org/calendar-of-events/) for more details and complete calendar!
? ? ? ? ? ?
Notes for You!
• Lost & Found: A brown Pyrex bread baking dish was left at the UUSG during the High Holidays. If this is yours, please contact rachely@fvjn.org.
• Donations: We rely on your donations! Please consider FVJN when making donations in honor of or as a memorial to someone in your life. The FVJN Giving Tree is a great way to honor others and assist FVJN in our fundraising efforts: https://www.fvjn.org/giving-tree/.
• If you have an interest in being part of a Caring Committee, a Social Action Committee, an Adult Education & Social Committee or FVJS Committee, please contact Rachel: rachely@fvjn.org.
https://www.fvjn.org/wp-content/uploads/2019/01/Icon-for-wordpress-e1568207474543.png
200
207
FVJN
http://www.fvjn.org/wp-content/uploads/2019/03/jewish-community-geneva-fox-valley.png
FVJN
2020-01-22 16:17:50
2020-01-22 16:18:04
ENews January 2020!