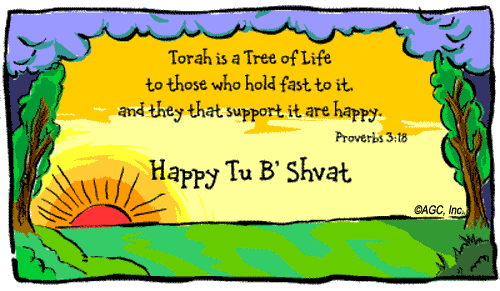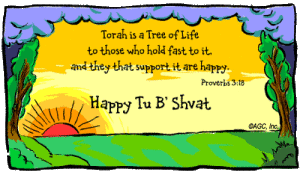 Tu B'Shevat, the 15th day of the Hebrew month of Shevat, marks the "New Year" for the trees. Which begins Sunday night January 24th at Sundown and end on Monday January 25th at Sundown.
We celebrate by eating fruit, specifically the kinds that the Torah mentions that the Land of Israel is known for: grapes, figs, pomegranates, olives and dates.
Here are some yummy recipes to help celebrate the holiday
Almond Smoothie:
1 1/2 C. cold unsweetened soy milk or milk
1 T. almond butter
2 drops vanilla extract
5 dates
2 T. raisins
1 T. carob powder
5 ice cubes
Blend almond butter and milk to make a nice thick creamy shake. Add dates, raisins, vanilla, carob powder, and ice.
Nut Filled Pears
4 pears
3 T. nuts, chopped
1 tsp. cinnamon
1/2 C. orange juice
Core the pears. Mix nuts and cinnamon. Fill each pear cavity with nuts and cinnamon. Place pears in a baking pan and pour orange juice over the pears. Bake at 350*F for 20 minutes. Serve warm.
Pomegranate Sorbet
3.5 cups pomegranate juice
1 cup sugar
Dissolve 3 cups of sugar in the juice and pour into a container lined with parchment paper.
Put container in the freezer.
When the mixture is frozen solid, take it out, break it into pieces and process in a blender or food processor with the remaining half cup of pomegranate juice until smooth.
Return it to the pan and freeze until firm. Let defrost slightly before serving.
Optional: Garnish with fresh pomegranate seeds.
https://www.fvjn.org/wp-content/uploads/2016/01/happy-TUB.gif
291
500
FVJN
http://www.fvjn.org/wp-content/uploads/2019/03/jewish-community-geneva-fox-valley.png
FVJN
2016-01-20 15:34:21
2016-01-20 15:34:21
Happy Tu B'Shevat