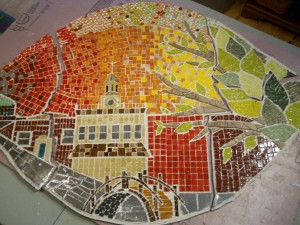 We are nearing the completion of our mural project! It's not to late to volunteer on this exciting project before the formal dedication on June 6….
The mural will be professionally mounted near our space as 121 S. Third St. We will then need volunteers to apply the grout after it is on the wall. No special skills are needed, but we are requesting ages 15 and up only for this job, as much of the work will be done on ladders. If you can help on Friday, May 27, any time between 1-5, orMonday, May 30, between 11-4, or have a ladder we can borrow, please email Mim Evans at evansml8@yahoo.com. Please include which hours you are available on which day. Only a limited number of people can work at a time, so we will figure out a schedule as we see when people are available. (Note: all dates subject to change if weather is uncooperative.)
Please plan to attend the formal dedication of the mural on Monday, June 6 at 6:00pm. The mayor of Geneva, city council, chamber of commerce, Geneva Foundation for the Arts and others have been invited. Let's have a great turnout from FVJN and families as we dedicate this project in honor of our 10th anniversary. Watch for more details on the dedication in a future email, but save the date now.
Thank you to all who have volunteered, contributed materials or made a cash donation. We still need to raise additional money to cover installation costs.Please donate here. Any amount is much appreciated.
Please click here to view the presentation about our Mural Process.
We look forward to seeing everyone June 6th! Shalom!
https://www.fvjn.org/wp-content/uploads/2015/02/pic5.jpg
1425
1901
FVJN
http://www.fvjn.org/wp-content/uploads/2019/03/jewish-community-geneva-fox-valley.png
FVJN
2016-05-18 21:48:38
2016-05-18 21:49:00
Mural Completed!