Big News from Fox Valley Jewish School!
Even though summer has begun, we are planning for next year. We are pleased to introduce two new teachers.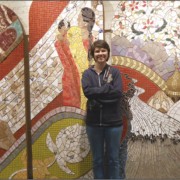 Danielle Dobies is known to many of you as the artist behind our mural. We are pleased that Danielle also will be teaching the FVJS art classes for 2015-16. Danielle has a masters of fine arts from Northern Illinois University and is excited to work with the FVJS students, some of whom she has already met through the mural project. Danielle will help the students work on the mural, but she also is planning many other fun art projects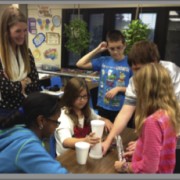 Abby Evans will be teaching the core classes for students in 3-8 grade. Abby has a degree in elementary education from Purdue University. She taught in Grand Rapids, MI for the past year and is relocating to the Chicago area for the coming school year. Abby has great plans for activities for the older students. She also will be getting some advice from a former FVJS teacher, her big brother Sam.
We will be welcoming back Roberta Maxfield to teach the core classes for the PreK-Kindergarten and 1-2 grade classes and Hebrew, and Rachel Yackely to teach music classes. They each have new ideas to share with the students. We want to thank Ruth Silverman and Jared Kramer for their help in making the past year a success for FVJS students. Ruth is joining the school committee and Jared will be attending college.
• Where are we going on field trips this year?
• Will students in grades 3 and up have a longer art period?
• What will our community service project be?
Watch for answers to these and other questions coming soon in future emails!
Please click here for registration and waiver forms: https://www.fvjn.org/fox-valley-jewish-school/
Please register early so we can finalize plans. Feel free to forward the materials to anyone with children or grandchildren ages 3 years through 8th grade. Tuition will remain the same as last year and field trip costs are once again included in the tuition fee. Please email info@fvjn.org if you have any questions.
https://www.fvjn.org/wp-content/uploads/2014/10/fvjs-banner-cropped-e1504732892827.jpg
100
407
Rachel
http://www.fvjn.org/wp-content/uploads/2019/03/jewish-community-geneva-fox-valley.png
Rachel
2015-07-13 16:19:23
2015-10-19 19:04:48
Register Now! New Teachers for Fox Valley Jewish School (FVJS!)