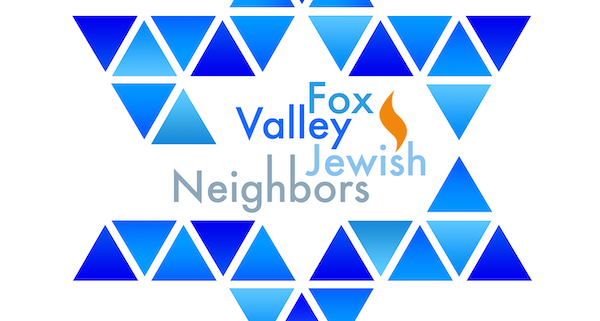 Are you looking for a fun Jewish educational experience for your children? We've got just the thing, right here in downtown Geneva!
Click HERE to Register Now!
Tuition information: Annual tuition for all students is $180 prior to August 31, $210 by September 1, and $250 after that date.
Fox Valley Jewish School
•Register NOW for the 2019 – 2020 FVJS Sunday school year!
Interested in a unique Jewish Sunday school experience for your children?
FVJN offers Sunday an educational, fun, social Sunday school program during the school year, right in the heart of downtown Geneva!
If interested in attending the 2019 – 2020 school year, please email RachelY@fvjn.org as soon as possible, and express your interest. Responses are appreciated ASAP in order to plan for next school year. Whether or not your children are current, former or new to us, we hope to hear from you soon!
Learn more about FVJS HERE!   
✶ ✶ ✶ ✶ ✶ ✶ ✶
Book Group
Tuesday, 8/13 @ FVJN
All are welcome.
Book for August discussion: This Narrow Space, by Elisha Waldman
"A memoir both bittersweet and inspiring by an American pediatric oncologist who spent seven years in Jerusalem treating children—Israeli Jews, Muslims, and Christians, and Palestinian Arabs from the West Bank and Gaza—who had all been diagnosed with cancer."
✶ ✶ ✶ ✶ ✶ ✶ ✶
Hebrew word of the week:
בוקר טוב
Boker tov
Good morning!
✶ ✶ ✶ ✶ ✶ ✶ ✶
Friday Flick
Film: "Dark Money"
Friday, August 23, 7 pm
At: UUSG, 102 S. 2nd St., Geneva
Free & Open to All
A real life political thriller, Dark Money exposes the impacts of the US Supreme Court's Citizens United decision. Through this gripping story, this Sundance award-winner uncovers the shocking and vital truth of how American elections can be bought and sold.
This event is a collaboration with POV, PBS' award-winning nonfiction film series and with the League of Women Voters Central Kane County.  
✶ ✶ ✶ ✶ ✶ ✶ ✶
Lazarus House Mitzvah Dinner
First Wednesday of each month.
Needed for September: 1 side dish, dessert
Needed for October: Main dish, 1 side dish, dessert
We are in need of more volunteers to sign up for this FVJN mitzvah project. This is a great individual, family or group activity!
Visit www.fvjn.org/lazarus-house/ to sign up today!
Thank you to Tobey, Felice and Joanne for the August dinner! It's a mitzvah!
FVJN volunteers provide dinner the first Wednesday of each month to approximately 70 guests at Lazarus House, a shelter located in St. Charles, which serves men, women and children in need in the Tri-Cities. Please visit the above link to sign up for future dates!
Questions? Contact FVJN coordinator Lisa Foydel: lisafoydel@gmail.com.
✶ ✶ ✶ ✶ ✶ ✶ ✶
Coming Up:
August
8/7 – Lazarus House Mitzvah Dinner
8/13 – Book Group
8/14 – Board E-Meeting
8/17 – Volunteer at NIFB
8/23 – Friday Flicks
Click HERE for complete calendar!
✶ ✶ ✶ ✶ ✶ ✶ ✶
Notes for You
• Calendar Update: We had scheduled Hot Dogs & Havdallah for Aug. 24, but have to reschedule due to a space availability issue. We will let you know the new date asap!
• Donations: We rely on your donations! Please consider FVJN when making donations in honor of or as a memorial to someone in your life. The FVJN Giving Tree is a great way to honor others and assist FVJN in our fundraising efforts: https://www.fvjn.org/giving-tree/.
• If you have an interest in being part of a Caring Committee, a Social Action Committee, an Adult Education & Social Committee or FVJS Committee, please contact Rachel (rachely@fvjn.org)!
✶ ✶ ✶ ✶ ✶ ✶ ✶
Prairie Jewish Youth!
PJY events are for Jewish youth in grades 5th through 12th!
All are welcome! For information and to RSVP, click on the link below.
http://prairiejewishyouth.weebly.com/upcoming-programs.html
https://www.fvjn.org/wp-content/uploads/2019/01/Icon-for-wordpress-e1568207474543.png
200
207
FVJN
http://www.fvjn.org/wp-content/uploads/2019/03/jewish-community-geneva-fox-valley.png
FVJN
2019-08-03 12:15:35
2019-08-03 12:15:54
ENews August 2019!