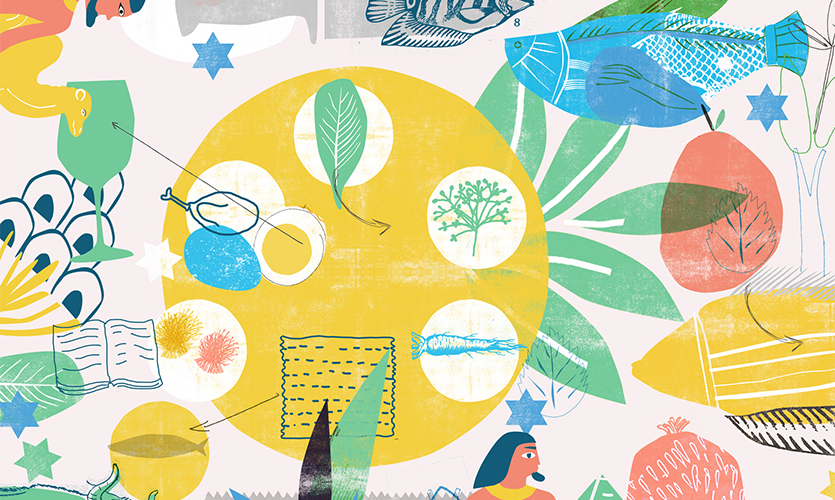 Social Dinner, NIFB Volunteer Day, More!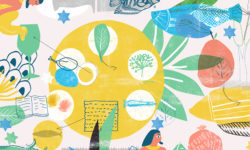 Wishing you all a Happy Passover!                                                           Reminder: there will be no Shabbat Gathering at                                      FVJN this month, due to the holiday.                                  
Chag Pesach Sameach!
——————————————————-
Children Invited to Ice Cream Passover Seder at FVJN!
All children ages 3 through 12 are invited to join Fox Valley Jewish Neighbors' Sunday School students for an Ice Cream Seder to celebrate Passover.
In FVJN's children's seder, all the symbolic foods will be represented by different ice cream toppings. Each child will receive a bowl of ice cream and the toppings
will be added as the story of Passover is told. A non-dairy ice cream substitute will be available upon request.
The Ice Cream Seder will be held on Sunday, April 9 at Fox Valley Jewish Neighbors from 9:30 to 11:30 am. Children will also make a craft and watch A Rugrats Passover.
Parents are encouraged to stay to observe.
There is no charge for this event but reservations are required in order to ensure that enough seats are available.
Reserve space for your child by going to https://www.fvjn.org/fox-valley-jewish-school/ice-cream-seder-rsvp/ on or before April 6, and include if your child needs nondairy ice cream or has any other food allergies that might be triggered by toppings.
Additional information is available by emailing info@fvjn.org .
——————————————————-
Book Group  
Tuesday, April 18, 7 pm @ FVJN
*Note: One week later than usual, due to Pesach.
Book: History on Trial, by Deborah E. Lipstadt
All are welcome! Questions? Contact MikeY@fvjn.org
———————————————————————————
Volunteer at NIFB!                                                                                                                                                    
Join us for a fun-filled morning, four times a year, when we volunteer at Northern Illinois Food Bank in Geneva.
Our next date will be April 22, 9 am – noon.
To sign up please email Alysa: ahwalisz@comcast.net (mailto:ahwalisz@comcast.net) .
——————————————————-
FVJN Adult Social Dinner!                                                                                                                                
Join us at The Lodge on 64!
All are welcome. Join us for an FVJN Adult Social Dinner on Saturday, April 29, at 6:00pm.
Please RSVP by April 24 to ahwalisz@comcast.net (mailto:ahwalisz@comcast.net) . Include phone number in case of changes.
The Lodge on 64 is located at 41W379 Route 64 in St. Charles, IL 60175.
———————————————————————————
Congratulations to Silvia!                                                                                                                                          
As of Tuesday, April 4, FVJN Board member Silvia Schnicker is officially a US Citizen!
Join us in wishing her a big "Mazel Tov," on this exciting culmination of all her hard work.
———————————————————————————
Mitzvah Dinner for Lazarus                                                                                                                              
First Wednesday of Each Month
Volunteers Needed!
FVJN invites you to help provide monthly dinners for guests of Lazarus House in Geneva. If interested, please contact Lisa Foydel at lisafoydel@hotmail.com.
——————————————————————————————
FVJN Playgroup!
Sunday, April 30, 10 am at FVJN
Geared for littles ages 3 and under, but all children are welcome.
There are lots of assorted toys at FVJN. Feel free to bring a snack, and we'll play and hang out and visit! This is not a drop-off. Please RSVP!
If planning on coming or have questions, contact Rachel: rachely@fvjn.org. See you there!
——————————————————-
Friday Flick @ UUSG
"Before the Flood," presented by National Geographic, featuring Leonardo DiCaprio on a journey as a UN Messenger of Peace.
"This documentary shows how interconnected the fate of all humanity is — but also the power we all possess as individuals to build a better future for our planet," said DiCaprio
Friday, April 28, 7 p,m.
The UU is located at 110 S. Second St., Geneva. Free!
All are welcome, and this is a free event. Please reply to Rachel: rachely@fvjn.org (mailto:rachely@fvjn.org) , if you plan to come.
For more info: http://www.uusg.org/friday-flicks/
https://www.fvjn.org/wp-content/uploads/2017/04/Passover.jpg
500
835
FVJN
http://www.fvjn.org/wp-content/uploads/2019/03/jewish-community-geneva-fox-valley.png
FVJN
2017-04-07 18:14:38
2017-04-07 18:14:38
FVJN Enews! April 4, 2017