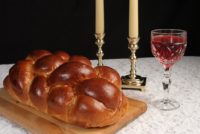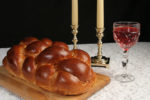 Shalom, Everyone!
Spring is already underway, and summer is just around the corner, which means Swedish Days is coming up, soon! Keep your eyes peeled for upcoming information and announcements. Each year, FVJN has a healthy foods booth in Downtown Geneva, during the annual Swedish Days event. This is one of our biggest fundraisers, and it's also the most fun! We need everyone to get involved and volunteer. More info to come.
Friday, May 12, will be our last Shabbat Evening Potluck until next fall. We hope to see you all, there! Please RSVP so that we know how much pizza to provide!
Are there activities, events, gatherings you would like to see offered at Fox Valley Jewish Neighbors? Please share your ideas with us. We're always looking for new ways to foster our growing Jewish community. Please send your ideas sand suggestions to info@fvjn.org or rachely@fvjn.org.
Shalom,
Rachel Yackley
Executive Director, FVJN

Shabbat Evening Potluck!
Please RSVP!
Friday, May 12, 6:30 – 8:30 pm at FVJN
Free pizza, provided by FVJN!
Please bring a dish to share.
We kindly request that you RSVP so we know how many pizzas to order.
RSVP to: rachely@fvjn.org 

Mitzvah Dinner for Lazarus
First Wednesday of Each Month
Volunteers Needed!
Click HERE (http://www.fvjn.org/lazarus-house/) to sign up!
FVJN invites you to help provide monthly dinners for guests of Lazarus House in Geneva. If interested, please contact Lisa Foydel at l (mailto:lisafoydel@hotmail.com) isafoydel@gmail.com (mailto:lisafoydel@gmail.com) .

FVJN Author!
FVJN member and local author, Katherine Lato, has set up a free offer for the Kindle version of her novel, French Encounters, on May 3rd and 4th. This book will be discussed Oct. 10 in the FVJN Book Group! To download the book, click HERE.
————————————————————
FVJN Calendar
May/June
5/3 – Lazarus House Dinner
5/7 – FVJS
5/10 – Board Meeting
5/12 – Shabbat Evening Potluck
5/21 – FVJS (Last Day)
6/7 – Lazarus House Dinner
6/13 – Book Group
6/14 – Board Meeting
6/19 – Swedish Days Booth Set-Up
6/20 to 6/25 – Swedish Days!
https://www.fvjn.org/wp-content/uploads/2016/08/shabbat-dinner-e1518193518459.jpg
134
200
FVJN
http://www.fvjn.org/wp-content/uploads/2019/03/jewish-community-geneva-fox-valley.png
FVJN
2017-05-06 11:00:26
2017-05-06 11:00:45
FVJN ENews! May 2, 2017